Title: Isabel and the Hungry Coyote/Isabel y el coyote hambriento
Author: Keith Polette
Illustrated by: Esther Szegedy
Publisher: Raven Tree Press, LLC.(May 2004)
ISBN: 0972497307
Genre: Children's Bilingual (English/Spanish)
Reading level: Ages 4-8
Hardcover; 32pp
$16.95
Rating: Highly Recommended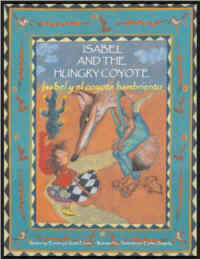 March 16, 2004
This is a clever and delightful take-off from the original Little Red Riding Hood sprinkled with a southwest twist. Cuentos y leyendas of today.
The book can be read within one sitting. An excellent example of such enduring stories preserved and retold, which have served to keep hearts and imaginations warm through the coldest of winters.
In "Isabel and the Hungry Coyote," stunning southwest graphics help bring back this tale of old with a bit of spice, reflecting the richness and diversity of Hispanic culture.
While the book is not a read-along, it is a very practical teaching and learning tool for both children and adults and should lead to some interesting discussion about the reality of strangers. Easily understood by even the youngest reader and listener. Included is a vocabulary both in Spanish and English, which teachers and parents will find useful.
Reviewed by Betsie