My Pal Victor/Mi amigo, Victor
Author: Diane Gonzales Bertrand
Illustrated by: Robert Sweetland
Publisher: Raven Tree Press, LLC.(May 2004)
ISBN: 0972019294
Genre: Children's Bilingual (English/Spanish)
Reading level: Ages 4-8
Hardcover; 32pp
$16.95
Rating: Highly Recommended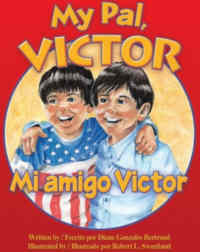 March 16, 2004
In lively and easy-to-understand text and written in both English and Spanish, social awareness is promoted through this entertaining story of one boy and his pal Victor.
Colorful illustrations also introduce children to a variety of creatures and places. With simple comparisons, this book also helps young readers build the bridges of common human understanding.
"My Pal Victor" offers an opportunity for young and old alike to experience anew the delight of storytelling. The small taste that being different is acceptable and wonderful, which the author weaves in so skillfully makes this book stand head and shoulders above the crowd.
Truly an enchanting story that reinforces both reading for families and a great way to bridge the gap between generations while being entertained. Perfect for beginning readers of English or Spanish. Teachers will love this book as an instrumental teaching tool.
Reviewed by Betsie