Yelly Kelly
Kelly, el Griton

Author: Nancy Sweetland
Illustrated By Robert Sweetland
Publisher: Raven Tree Press, LLC.; Bilingual edition (February 2004)
Reading level: Ages 4-8
Library Binding; 32 pages
Price: 16.95
Rating: Highly Recommended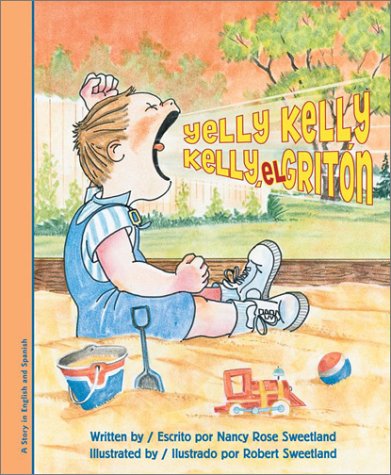 Kelly's family is tired of hearing him scream and yell all the time over nothing. They come up with a plan to teach him a lesson; that crying doesn't help if you do it all time.

This humorous children's tale teaches the parent, that in some instances children will understand and figure things out for themselves once they go through a situation on their own. If children don't respond appropriately to verbal instructions that show them how to do it, there may be another option to help them.

The children learn that instead of making a lot of noise over nothing all the time, people won't believe you when you do need help.

This story is well told with a superb English to Spanish style. The imagery and projection are vivid. You can almost envision a child you once may have met that yelled and screamed constantly.

The action illustrations were wonderful, exciting, and full of energy. The pictures are very well drawn and sharp, the colors are great.

This book is highly recommended for small children; especially those that are preschool aged, who still have the tendency to be a yelly kelly.