Title: Secrets And Kisses
Author: Celise Downs
Publisher: Gemini Mojo Press; 2nd Rep edition (March 2004)
Genre: YA Fiction
Paperback: 116 pages
ISBN: 097529072X
$8.00
Rating: Highly Recommended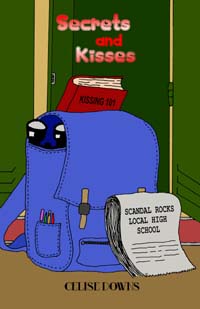 November 11, 2004
Seventeen-year-old Skylar Knight and her best friend Elliodie "Ellie" Arparo are in their final week of classes at Valley View High. Final exams are just around the corner, as well the junior's only party at Blair Nueman's house. It's well known by all the students that Blair throws the "very best" parties and this year would be no different. But Skylar is terribly nervous and worried. Why? Because of the "Kissing Game," and the fact that she doesn't know how to kiss!
Skylar and Ellie decide a little research is in order and they head for the library, and to their amazement find a book titled "Kissing 101." Upon exiting the library she bumps into Kedren Price, the most popular boy in school. Skylar has a crush on Kendren, but their conversation seems more like an interrogation, on Kendren's part, leaving Skylar with an odd feeling.
While attempting to study Skylar is unable to get the kissing book out of her thoughts, and students around her are acting out of the ordinary. Unintentionally Skylar overhears odd conversations, all concerning the Nueman family.
One thing is definite for Valley View High, is that something big is about to explode and high school for Skylar will never be the same again!
Secrets and Kisses has a realistic cast of characters which explore issues that real teenagers experience. The book uncovers a conspiracy, secret agents, and scandals, absolutely not your typical high school! Author Celise Downs has done a stupendous job of capturing the essence of youth. This is a great book that any teen is certain to enjoy!
Reviewed by Betsie