Title: The Compound
Author: Gloria Shepherd
Publisher: Aventine Press; (August, 2004)
Genre: Fiction-Espionage/Thriller
ISBN: 159330224X
Paperback: 324 pages
$17.95
Rating: Highly Recommended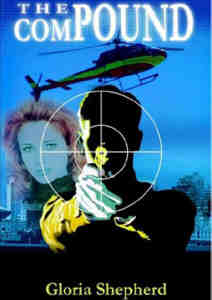 November 1, 2004
Carly Manning encounters a group of men on a road after loosing control of her vehicle. She realizes that she has stumbled into the wrong place at the wrong time, but fortunately, she mentions the name of a mutual acquaintance and the group agrees to assist her. She meets Ken Morgan, a charismatic musician and the leader of a group called "The Compound." As Carly and Ken interact with one another you get the distinct impression that they are meant to be together. From that point forward they have begun an adventure that becomes the plot for The Compound.
Most espionage type thrillers consist of two-dimensional characters that simply do what you expect them to do. Without conscience or remorse they bed anyone necessary to achieve their objective. Although Carly and Ken are attractive and attracted to each other, they keep a respectable distance from one another. That fact creates a cloak of sexual tension that the reader can detect on any page on which the names Ken and Carly are mentioned together. It is as if they want to put their past "exploits" behind them and experience true love. Both characters have a colorful past in which "love" simply means sexual relations, but that may change as the hero and heroine fall deeply in love.
Ken has become Carly's protector in a sense. From her innermost thoughts you can sense that she can take care of herself but she allows Ken to defend her, mainly from some of the other members of Ken's team. Now, the tables have turned and Carly must fight to save Ken from his destruction. His team, the Compound, has become obsolete and an assassin has been sent to bring Ken down. Carly has decided that she will do what is necessary to save the man that she loves. Will she fail? Will she succeed? Is she more than what she appears to be? Read the book and you will surrender yourself to a literary roller coaster that you will not be able to put down.
A three dimensional plot has been merged with two three dimensional characters to create a realistic adventure that will entice and entertain the senses. Enter The Compound and sample the work of Gloria Shepherd. Ms. Shepherd is a seasoned, veteran writer with the ability to create believable characters tackling realistic issues. She writes with a romantic edge that will draw multiple audiences into the book with a desire to see how the book ends. Do the two heroes fall in love and stay together? Or, will the covert world of espionage tear them apart? I'm not going to tell…
Reviewed by Tyrone Vincent Banks