Title: Anderson's Roundup
Author: Terry May
Publisher: Publish America (June 2004)
Genre: Fiction / Western
Paperback; 152 pages
ISBN: 1413727069
Price: $19.95
Rating: Highly Recommended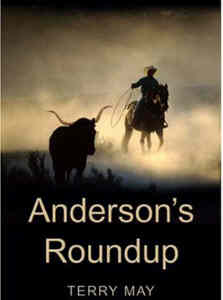 November 23, 2004


After the civil war Hub Anderson looked to build a better life for himself in Brazo, Texas, rounding up wild stray cattle. He didn't count on meeting Sarah Turner.

Sarah an ex-captive of renegade Comanche begins to show a defiant and brave side of her. After Indians kidnap her son, Sarah, her father Ben, Hub, and friend James Harper go to the rescue.

Many encounters with the crooked lawmen with prejudiced ways friendly thieves and other dangerous beings are meet along the way.

This is the western novel for all. This was not an easy book to put down. With a smooth story-telling style, author Terry May delivers a mighty wallop with Anderson's Roundup!
Reviewed by Demetria Harris