| | |
| --- | --- |
| | in this issue |
Greetings!

Wow - Hope everyone is planning a good time this weekend! I know I am... my birthday was great ^_^

It was a suprise dinner at a restaurant with mariachi's, HUGE margaritas and more!

Ahhh we have lots to share this week -- so read on and enjoy!!


Betsie
GODS IN ALABAMA
WarnerBooks: Available in Paperback and Audio Cassette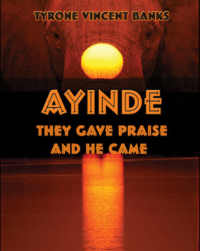 AYINDE: They Gave Praise and He Came
PublishAmerica: Paperback
CELEBRITY GOSSIP
Actress Angelina Jolie is facing strong criticism over her adoption of Ethiopian orphan Zahara Marley after it emerged the baby has a grandmother desperate to raise the money to keep her. Almaz Blfnhe, 45, toiled to care for the baby for four months after her daughter Mentewabe died from complications in childbirth, but eventually accepted she was too poor to look after her. Children's charities are critical of the Mr And Mrs Smith star and argue she would have done more good donating some of her GBP30 million fortune to the heartbroken family.
Actor Hugh Grant has escaped a new legal spat after running over an over-eager photographer after dining out with girlfriend Jemima Khan. The Notting Hill actor hit the snapper as he left trendy restaurant Mr Chow in Hollywood on Wednesday night. The paparazzi, who wasn't injured, has decided not to press charges.
Charlie'S Angels star Cameron Diaz took the stand Thursday morning to testify in a criminal trial over topless photographs taken of her before she was famous. Giggling through parts of her testimony, the actress described how she entered modeling and went overseas when she was 16. Photographer John Rutter tried to sell back the topless pictures to Diaz in 2003 as she was promoting a sequel to 2000 movie Charlie's Angels. Rutter is charged with one count each of attempted grand theft, forgery and perjury. Prosecutors claim Rutter used a forged model release form as a way to put pressure on the actress. A judge has issued a permanent injunction prohibiting Rutter from distributing the snapshots. Diaz has also sued Rutter in civil court. That case is pending.
Hollywood star Mel Gibson is ashamed of his first ever-onscreen kiss because it was with another man in a cheap movie. The Braveheart hunk made Summer City, his first feature film, during his graduation year at Australia's National Institute of Dramatic Art. But he complains he never received the GBP250 he was promised for performing the embarrassing movie scene with Australian Steve Bisley. Gibson says, "It was a cheap, nasty movie that was cranked out in three weeks on a tiny budget." The pair has also worked together in the stage production of The Hostage and later in the first Mad Max movie.
IN THE NEWS
DVD SALES SPUR DREAMWORKS ANIMATION TO WITHDRAW SECONDARY OFFERING. DreamWorks Animation SKG Inc. confirmed that it has been informed by its principal shareholders that they will not proceed at this time with the secondary offering of $500 million of Class A common stock which was filed in a preliminary registration statement with the Securities and Exchange Commission on March 28, 2005.
HENSON'S CREATURE SHOP CLOSES IN LONDON. As a result of the dollar's unfavorable exchange rate and a lack of concrete tax incentives in the U.K. production market, The Jim Henson Co. will no longer have a full time staff at its London location of Jim Henson's Creature Shop, the company's visual effects and animatronics division. However, the company's own television and film projects are not affected and the Creature Shop will continue to service third party clients out of its Los Angeles and New York locations, as well as hiring freelance crews in London on a project-by-project basis.
Y TU MAMA TAMBIEN WRITER LAUNCHES TOON HOUSE. Y TU MAMA TAMBIEN writer Carlos Cuaron has formed an animation production company. His partner in the firm will be Mexican animator Rene Castillo. Cuaron will continue to write live-action scripts.
SAGARIKA MUSIC FORMS CULTURE COMPANY FOR TOON SERIES. Mumbai-based music company, Sagarika Music Pvt. Ltd., has launched its children's entertainment brand, The Culture Company, and an animation VCD series targeting children.
COMPOSER LAURA KARPMAN WILL TUNE UP FOR SONY ONLINE ENT. Four-time Emmy award- winning musical composer Laura Karpman has joined Sony Online Entertainment Inc. (SOE), as a full time composer.
BYRON PREISS, DIGITAL PUBLISHING PIONEER, DIES IN CAR CRASH. Byron C. Preiss, an author and a publisher who specialized in illustrated books by celebrities, graphic novels and science fiction, died in a car accident on July 9, 2005, in East Hampton, New York. He was 52 and lived in Manhattan.
DICAPRIO ICES VONNEGUT'S CAT'S CRADLE. Leonardo DiCaprio's Appian Way production company is set to develop and produce a feature adaptation of Kurt Vonnegut's CAT'S CRADLE. Appian Way will partner with manager/producer Hillard Elkins' Elkins Ent. on the project.
OLSON TAPPED TO ADAPT MONSTER MANGA. New Line Cinema has tapped Josh Olson (A HISTORY OF VIOLENCE) to adapt Naoki Urasawa's best-selling manga series, MONSTER, into a live-action feature, according to THE HOLLYWOOD REPORTER. In addition, Olson will write a treatment for a sequel, which he would also write.
E-SOL International, Inc. (OTC.PK: ESIT) announced today that it has just acquired the Canadian-based film production company, Toronto Pictures, Inc., via reverse merger. Bruno Pischiutta, President and CEO of Toronto Pictures, Inc., and Daria Trifu, the Candian Company's Vice President, were appointed to the Board of Directors. Resultant of the acquisition, Pischiutta will now become President of E-SOL International and Trifu will now become Vice President. Accordingly, E-SOL's corporate headquarters will be moved to Toronto.
SCREEN-USED LIGHT SABERS TO BE AUCTIONED.
Beverly Hills auctioneer Profiles in History will auction treasures from the archive of filmmaker Gary Kurtz on July 29, 2005, at 11:00 am PDT. Kurtz was the producer of STAR WARS and STAR WARS: THE EMPIRE STRIKES BACK, as well as AMERICAN GRAFFITI, RETURN TO OZ and DARK CRYSTAL. He received two Academy Award nominations for Best Picture (STAR WARS & AMERICAN GRAFFITI). Working closely with George Lucas from 1973-1981 as vp of Lucasfilm, Kurtz was instrumental in developing the STAR WARS trilogy and bringing the first two blockbuster films to the silver screen. Throughout his lengthy career, he has amassed a huge personal archive of film memorabilia. To help fund the restoration and conservation of artifacts in the Kurtz Archive, more than 75 STAR WARS related pieces have been selected for de-accession. Their sale will ensure that many more pieces in the Archive can be preserved for future generations.
Auction highlights include:
* Luke Skywalker hero light saber from STAR WARS. (TCF, 1977) Estimate: $60,000-80,000.
* Luke's X-Wing flight suit from STAR WARS and THE EMPIRE STRIKES BACK. (TCF, 1977&1980) Estimate: $60,000-80,000.
* Darth Vader hero light saber from STAR WARS: THE EMPIRE STRIKES BACK. (TCF, 1980) Estimate: $40,000-60,000.
* Original screen-used Stormtrooper blaster from STAR WARS. (TCF, 1977) Estimate: $25,000- 30,000.
* Harrison Ford signature leather jacket from INDIANA JONES AND THE LAST CRUSADE. (Paramount, 1989) Est: $40,000-50,000.
* Original Derelict Ship set piece from the first two ALIEN films. (TCF, 1979 & 1986, resp.) Est: $40,000- $60,000.
* "Sarek & Amanda" STAR TREK costumes from "Journey to Babel". (NBC-TV, 1966-69) Est: $30,000-40,000.
* Prop grandfather clock from THE MUNSTERS. (CBS- TV, 1964-66) Est: $25,000-35,000.
* Burgess Meredith "Penguin" tuxedo shirt from BATMAN. (ABC-TV, 1966-68) Est: $20,000- 25,000.
* Frank Gorshin suit worn as "The Riddler" in the very first BATMAN episode. (ABC-TV, 1966-68) Est: $15,000-20,000.
* Tom Hanks complete costume from SAVING PRIVATE RYAN. (Paramount, 1998) Est: $12,000- 15,000.
* Capt. Nemo's skiff from 20,000 LEAGUES UNDER THE SEA. (Walt Disney, 1954) Est: $12,000- 15,000.
* Miniature Batmobile from the first BATMAN film. (Warner Bros., 1989) Est: $12,000-15,000.
* Original 4077th hometown mileage signpost from M*A*S*H. (CBS-TV, 1972-83) Est: $10,000- 12,000.
* Robin William's electronic hero costume from BICENTENNIAL MAN. (Columbia, 1999) Est: $10,000- 12,000.
* Prop cello used by Lucille Ball in the pilot episode of I LOVE LUCY. (CBS-TV, 1951-57) Est: $10,000- 12,000.
* John Travolta leather chaps from URBAN COWBOY. (Paramount, 1980) Est: $10,000-12,000.
* Vintage coffeepot radio from HOGAN'S HEROES. (CBS-TV, 1965-71) Est: $10,000-12,000.
* John Wayne utility jacket from THE SANDS OF IOWA JIMA. (Republic, 1949) Est: $8,000- 10,000.
* Archive of 52 binders with hundreds of GONE WITH THE WIND publicity stills. (MGM, 1939) Est: $8,000- 10,000.
* Kirk Douglas gladiator armor from SPARTACUS. (UIP, 1960) Est: $8,000-10,000.
* BUFFY THE VAMPIRE SLAYER amulet. (UPN&WB-TV, 1997-2003) Est: $6,000-8,000.
* Bill Travilla costume sketch of Marilyn Monroe's dress from GENTLEMEN PREFER BLONDES (TCF, 1953) Est: $6,000-8,000.
Collectors may bid in person, live on eBAY, by phone or fax.
Profiles in History is located at 110 N. Doheny Drive, Beverly Hills, California, 90211. Joseph Maddalena, president of Profiles in History, is available for interviews and auction items are available for filming. For more information, contact Lorna Hart at lorna@profilesinhistory.com or at (310) 859-7701
BOOK REVIEWS
Keaen by Till Noever
Publisher: EDGE Science Fiction and Fantasy (August 2004)
Genre: Fantasy
ISBN: 1894063082
Paperback: 358 pages
$14.95
Rating: Highly Recommended
Insurgents against fate!
June 30, 2005
Siblings Armist and Tahlia are children of Hain, ruler of Keaen. Bound by an ancient Covenant Armist and Tahlia threaten the stability of a nation by escaping their predestined lives. A chase for the siblings ensues and one that will lead them across two kingdoms, throwing them into a path of total chaos.
They will soon find themselves facing numerous dangers, including a fight for their very freedom and existence. Unexpectedly, the siblings receiving help from Pandrak the magice-at-court, and Caitlan the weaponsmaster.
Keaen is an enticing read with action around every corner moving along briskly. Till Noever's writing style is descriptive, provoking, and electrifying. Readers will not be bored or bombarded with excessive back-story like in so many books. The author does well at divulging what and when as needed only. It is quite visible that this author has carefully designed this fantastical tale without having sacrificed adventure.
Keaen is a genuine medieval-like society, and a richly described world that will leave readers searching for its location. I thoroughly enjoyed reading Mr. Noever's work and certainly look forward to more!
Reviewed by Betsie

Book Marketing from A to Z by Francine Silverman
Publisher: Infinity Publishing (March 2005)
Genre: How To/Marketing
ISBN: 0741424312
Paperback: 402 pages
$18.95
Rating: Recommended
Somewhat lacking.
June 30, 2005
Book Marketing From A-Z is filled with numerous concepts and resources to help authors make the process of marketing and promotion of their book less tedious a task.
Book Marketing From A-Z begins with Advertising and concludes with Zero Promotion. It is easy to see that contributing authors poured out their souls with suggestions, tips, and pitfall tales.
Over 300 authors have contributed to this compilation of ideas, sources, and tips. Inside readers will find links to many promotion and review sites, free-subscription newsletters, ezines and magazines accepting articles, contests, as well as free downloads.
The book: organized into 35 sections with topics from the influence of book covers to pitching the media to author websites, however, there is no index in the back of the book? There are a number of other errors I won't mention, but this is not about that, it's about substance. I did not find this to be a "page- turner" per se.
Not sure why, but I expected a little more from this 402-page book. Book Marketing From A-Z somewhat lacks in substance, although this could be a good starter, marketing book for writers.
Reviewed by Betsie

Bury My Heart at Redtree by Patrick Chalfant
Publisher: Hawk Publishing Group (June 2005)
Genre: Fiction
ISBN: 1930709536
Hardcover: 288 pages
$23.95
Rating: Highly Recommended
Entertaining and unpredictable from start to finish!
July 6, 2005
Taylor Hayes sees himself as a modern day warrior. He and his associates carry out a stream of seemingly pointless murders as they elude the local authorities and one discouraged Detective named Jennings. In the beginning of the book in the characters earlier stages of development, the crimes committed will shock the reader. You will see Taylor as a serial killer who is guided by a Native American Elder. He believes that he has a sacred mission to accomplish. First and foremost he believes that he is seeking revenge for the death of his adoptive parents who he suspects were killed by a local banker named Kyle Gayland. We find out later that his mission has many facets and this creates an environment of organized confusion that will only make sense in the end.
Gayland is Taylor's nemesis and is more or less a money driven businessman who will do anything to turn a profit. His master plan is one that we find in several pieces of fiction and non-fiction. He wants to build on underdeveloped land and only one thing stands in his way the people who live there. He will resort to any tactic to remove them from this land. He sends in an exterminator to spray the area to remove unwanted pests. The people are unaware of the fact that they are indeed the pests that Gayland would like to exterminate. They are exposed to a poison designed to sicken and/or kill off the men, women and children who want only to live in peace. These tactics are similar to the use of bison skin blankets smeared with smallpox in 1763 to rid the land of the Natives. The Natives received this gift only to succumb to the disease later.
At this point, the reader may actually start to understand Taylor's cause and the reopening of racial wounds that many would like to forget. He feels that his acts of violence pale in comparison to the White Mans acquisition of Native American territory for many centuries. Although his adoptive parents were Native American and he is not!
A fine line develops between vengeance and murder as Taylor begins to see his mission as a psychology experiment as well. He moves forward for all of the wrong reasons and his noble quest becomes nothing more than an unjustified bloodbath. However, Taylor does not see it that way and at some points in time the reader may see things this way as well - until a better sense of ethics and morality sets in.
Bury My Heart at Redtree is an entertaining read that is well worth the money and the time to explore its pages. The ending is unexpected and the journey towards that ending must be taken to appreciate the author's message.
Reviewed by Tyrone V. Banks

Shelby and the Shifting Rings by A.M. Veillon
Publisher: Parity Press (May 2005)
Genre: YA Fantasy
ISBN: 0976201550
Paperback; 167pages
$9.95
Also available in Hardcover
Rating: Highly Recommended
Wonderful story!
July 12, 2005
At twelve, Shelby Shodworth after having just buried her mother is shipped off to an uncle she's never even heard of "The Colonel," also known as Leviticus, her father's brother. In her new home within Watercrest County, on Patchberry Lane she meets and befriends a wiry chatterbox, Casey Calper. Shelby spends much of her time trying to find things to be thankful for then adds them to her "thankful things" list, and Casey Calper was something to be thankful for.
Shelby doesn't know much about her father other than he died in a fire ten years ago and a star shaped piece of silver that once belonged to him was been given to her several days prior to her mother's death.
Life takes a quick turn for Shelby once she enrolls as a new student at Ms. Peabonnet's Academy for Girls. Here she meets a brainy, Molly MacPac. Both girls are instantly caught up in an exciting mystery involving a dark-cloaked stranger and a missing academy professor.
Shelby searches for answers, and with Molly MacPac's help, they uncover a hidden time travel portal underneath the school, hidden in tunnels. Shelby finds the courage to use the time travel portal and unravels the mystery of her family's secret past
Author A.M. Veillon livens this great read with many colorful and memorable characters that add mystery and draw mix emotions within you; and the author does not leave out the problems a young girl could encounter beginning a new school. Making new friends, battling the school bully, and dealing with a teacher who appears to dislike her, all make for a realistic story.
Reviewed by Betsie
SONGWRITERS
Sending Your Initial Query
If you have never contacted a particular company before, start by requesting permission to send in your songs. Ideally, send your query to a particular person (that's where we can help because we have contact names in our database), and follow the instructions for how to submit your songs and to whom -- sometimes the same person, or you may be referred to someone else.
When you request permission, keep your query short. Indicate the genre or type of song you are submitting (and make sure the company handles this type of genre -- which is why we target the queries we send by genre). Include the song title, theme, and author credits. Plus, include any relevant bio and promotional information about yourself, such as previously published songs, memberships in the music industry, and significant awards. Also, ask the best way to submit your songs -- on tape, CD, or if you have your songs on a Web site, that might be another option.
Submitting Your Songs
When you submit with a tape or CD, label your song with the title, author credits, and your contact information, including your address, phone number, and e-mail. If you have a Web site, include that, too. Make it look as professional as possible, such as creating an attractive label for a CD.
Include a lyric sheet for each song you are sending. Start off with the title and author credits. Then, clearly label the different parts of the song, such as Verse, Chorus, Bridge, and Tag. Finally, include your contact information with your address, phone number, and e-mail.
If you have your songs on a Web site and the contact is open to listening to songs on line, provide a link directly to the song or songs you are pitching. Then, the title, author credits, and contact information should be easily accessible on the Web site, such as by having that next to the link to click to launch the song or having a pop-up window with this information.
SONGS NEEDED!
FAT CHANCE PUBLISHERS - We are currently accepting original material in the following categories:
Rhythm & Blues
Rock- New wave, classical- No heavy metal at this time
Country- Contemporary, pure, be original
Hip Hop
TV theme, movies
Christian- Upbeat, Absolutely no HGTA stuff
Jingles- The ad agencies are always looking
The world needs one new dynamite Christmas song
Pop ain't hot- keep it at home and No Boy Band stuff- please.
We are a new music publishing group looking for new songwriting talent. It is our goal to enter the market with some serious ammunition, i.e.; great songs in every category. We need excellent material, and we need it now.

Gospel Record Label seeking songs unpublished for some of their artist upcoming album. We normally pay anywhere from $3500-$10,000 for 85% rights of the song and you the writer keep the other 15%. We accept all styles of Gospel/Christian Music especially interested in Worship, Contemporary and Traditional Music. All demos must be sent to us on CD with legible contact info and email address so that we can respond right away when we receive the demo. Please email us for the address as to where to send the demo if interested. anon-78666333@craigslist.org

WHERE TO SHOWCASE YOUR WORK

Superhero Songs - I am in the process of developing a website where talented songwriters with a passion for superheroes can share their music with fans of the genr

Riffstar - Get your music reviewed by the public right from home on a new site... looks like it is free and has all sorts of industry news

CONTESTS

Pacific Songwriting Competition - The New Zealand based "Pacific Songwriting Competition" seeks excellence in expression. The competition is sponsored by an Opera Singer with a passion for original music and those who create it .The cash prizes total $25,000 and 2 i Pods are to be given away on the 500th and 1000th entry opened. The competition is open to all nations, genres and both amateur and professional songwriters. There are neither promises of chances to be heard by the "big boys" nor product to be given away .The sponsor wished for an Ad Free Site with occasional quotes and songwriting tips. Online Artistic Support is available. All entries must be received by the 31st March 2006

Looking for the best price on demos?

A Writer's Paradise, Inc. - Straight out of Music City, this Nashville production & publishing company was built for songwriters and/or singers who don't have the convenience of living in Nashville.

NEED TO SPREAD THE WORD ABOUT YOUR MUSIC?

Submit News to Indie-Music Newsletter or send email with infor to: pressrelease@indie- music.com
WRITER'S SHOWCASE
Here's where readers can check out talented writers and their work.
To purchase their novel(s)/script(s) /essa(s) /poetry or just feel like contacting them -simply follow the links listed at the bottom of each page.
Are Creative Writers Back in Demand?
by Greg Rempel
Could it be that the Hollywood gravy train has finally derailed? Are we at last seeing the end of the line for sequels, prequels and remakes? Many Hollywood insiders believe that the endless list of Part 2's and TV shows-turned-feature films are more than partly to blame for the current 20-week box office slump. As Entertainment Weekly sarcastically puts it, " ...Who doesn't want to pay $8 for popcorn and sit through 20 minutes of ads? And man, are remakes awesome or what?"
Summertime is notorious for an abundance of "fluff" movies. The Oscar contenders are traditionally released in the fall. But this year, the remakes and sequels were hitting the screens well before the Memorial Day weekend. We were expected to pay $8 (or so) to see gems like Miss Congeniality Part 2: Armed and Fabulous, Son of The Mask and Assault on Precinct 13. Like me, moviegoers weren't interested, and we voiced our opinion with thousands and thousands of empty movie theater seats. Are the greenlighters in Hollywood getting the message? We screenwriters certainly hope so. If these geniuses have any hope of pulling Hollywood out of its biggest slump in 20 years, they need to recognize the fact that a steady diet of bubblegum and cotton candy is satisfying only in the short term. Eventually the movie audience craves something it can seek its teeth into. And Rush Hour 3 isn't going to do the trick.
As screenwriters, how often have we been told that our best shot at selling a screenplay is to write something "high concept?" And what do they mean by "high concept?" They mean a story with a broad appeal that can be described in one sentence or two. Seems to me that this description applies to almost every one of the under-performing movies dying a slow death at the Cineplex. And worse, it goes against the grain of almost everything we're taught as good storytellers.
We should recognize that at the heart of most good stories are interesting characters. In writing classes we are taught that most actors read scripts to find interesting, multi-dimensional characters that they want to play. But the characters in high concept projects are usually far from multi-dimensional. This would require more than two sentences to explain. So we're encouraged to create simple, stereotypical characters with whom the audience can identify. Of course the audience can identify with these characters. They've seen them in a dozen movies before.
As writers, it's time we push back against the high concept screenplay. There's nothing wrong with creating a story that has universal appeal. After all, the movie business is first and foremost a business. But let's challenge the audience a little bit by creating complex characters and putting them in complex situations. From Citizen Kane to Annie Hall, from Chinatown to Pulp Fiction, from Cool Hand Luke to As Good As It Gets, from Monster's Ball to Memento, from Fargo to Rain Man, from Eternal Sunshine of the Spotless Mind to Sideways. Every one of these motion pictures features multi- dimensional characters in complex stories. Each of these movies attracted major stars, Directors and Producers. Almost all of them are Academy Award winners or, at least, nominees. It would be nearly impossible for a Producer to accurately pitch any one of these movies with a one or two-sentence description.
The temptation is great to follow-up a hit movie with a carbon copy. There will always be an audience for predictable, formulaic movies, and movies based on video games and amusement park rides. But when pre-packaged movies and re-makes are the only choices on the menu, it should come as no surprise that the audiences are shrinking and are looking for more variety in their diets.
For the creative writer this is your opportunity to shine. Challenge yourself to tell a unique story that doesn't fit neatly into one of the cut-and-dried categories that have, up until recently, been getting all the notice. Dust off one of your stories that seemed a little too quirky to be regarded as a "commercial property." This may be the best opportunity we have had in years to express ourselves with an original voice.
It may be that an original story featuring original characters will once again be in great demand. Sure it's risky to bet on an unknown quantity, but it's abundantly clear that churning out the same-old, same-old is no longer a safe bet. Who in their right mind would greenlight Bewitched or The Dukes of Hazard over the next Forrest Gump? After having their noses bloodied these past 20 weeks by studio accountants and shareholders, you can bet the Hollywood development professionals are getting the message.
Greg Rempel has been a writer and Director of corporate communications for more than 25 years. Throughout his career Greg has always had a strong interest in entertainment, particularly in feature length motion pictures. In 2002, Greg produced his first full-length feature from his own screenplay. The Murder, a low-budget, mini-dv feature, premiered at The Three Rivers Film Festival in Pittsburgh, PA, and has since played festivals and arthouses in San Francisco, Austin, Texas and in New York City. In 2004, Greg and his partners formed Company X Entertainment in Pittsburgh, an independent motion picture company. Company X Entertainment is currently seeking funding for Greg's supernatural thriller, Burn, which he will also direct.
17 Full Grown Elephants? That's a Lot of Books.
By Dee Power
2004 saw a record of 195,000 new books released in the United States, a growth rate of 20,000 per year for the last three years. 195,000 new titles, what does that mean?
If the books were shelved side-by-side one would need three miles of shelving. If the books were stacked one atop the other, they would reach nearly ten times higher than the world's tallest building, the Taipei 101, which measures 1,671 feet. To transport one copy of each title, the vehicle would have to be capable of hauling 73 tons or 18 full-grown elephants. Laying the books down in a straight line would require nearly 27 miles of railroad tracks.
And most interestingly of all, if one author wrote all these books, consecutively, he or she would have had to start writing during the time of Neanderthal Man, nearly 100,000 years ago. 195,000 books is almost 10 billion words.
How difficult is it to get a book published by a commercial publisher? Well the odds are better gambling in Las Vegas. It has been estimated that 25 million people in the United States consider themselves writers and only 5% have been published anywhere. Ready for another dose of reality? Only 1% of manuscripts submitted to publishing houses are accepted for publication.
Most major publishing houses, and many small presses, will not accept submissions that aren't represented by a literary agent. During the research of "The Making of a Bestseller: Success Stories From Authors and the Editors, Agents and Booksellers Behind Them," the authors, Brian Hill and Dee Power, asked literary agents how many unsolicited query letters/proposals/sample chapters, they receive. For the typical agency it is close to 5000 per year. On the average these agents accepted only 11 new clients, that's about 1 out of every 500 submissions.
If 99% of all manuscripts submitted are rejected, by any standard, a writer whose book has been published has achieved a major accomplishment. However you look at it, 195,000 is a lot of new titles and a lot of happy authors.
Brian Hill and Dee Power were inspired by their own publishing experiences to research and write "The Making of a Bestseller." Hill and Power have also co-authored "Inside Secrets To Venture Capital" and "Attracting Capital From Angels." Their debut novel, "Over Time," is scheduled for release in October 2005. The drama of high finance, hostile takeovers and vicious venture capitalists is interwoven with an emotionally engaging, nostalgic football story about friendships that last forever.
SCREENWRITING TIPS
Where's the Magic?
Screenwriting is a lot like magic. Audiences love the "tricks," so that is what they focus on. But to the professional, the trick is the least of what they are doing on stage.
What makes a magician great is their understanding of how to work with an audience. Their performance is designed to incite emotion, provoke curiosity, capitalize on normal assumptions, misdirect the senses, cause people to jump to incorrect conclusions, and finally, astound us with the new discovery in a way that has us love the magician. That performance is where the real magic is.
What if you did that with your screenplays?
Don't get me wrong, the normal "tricks of the trade" are extremely important. Just like magic, if you don't have the tricks, you don't have anything to base the performance around.
But the performance is what makes the magic special.
HOW DO YOU DELIVER YOUR MAGIC POWERFULLY?
The same story with the same plot and same characters can be written in a way that is dull or emotional, cliche or magical. It is totally up to the writer.
Here's a few ways create some magic:
1. Be willing to cause wild shifts in people's emotions.
Not in your real life -- that is a way to get into serious trouble. But when it comes to your screenplays, you need to give yourself total permission cause people to go through all kinds of emotional experiences.
If this bothers you, ask yourself what you want out of a movie you pay to see. Isn't the "emotional journey" part of the experience that you demand from a movie? Sit down and watch your favorite movie and make a list of how many times they do something to generate some sort of emotion. You may be surprised.
Remember, if you aren't willing to cause people to have emotional experiences, chances are that those emotional experiences won't show up in your screenplays.
2. Look for opportunities to create an emotional experience.
Don't leave the emotional experience of your movie to chance. This is too important. In order to have an audience feel emotions, those emotions need to be set up and then played out. But in order to do that, you need to first know what kinds of emotions can be in your script.
Here are some possible emotional and mental states for your screenplay:
- curiosity - anticipation - suspense - fear - anger - laughter - worry - depression - elation - happiness - sadness - sorrow - horror - relief - disgust - lust - love - loss - betrayal - desire - and many more.
Second, keep in mind that writing the word "fear" in your screenplay is very different than designing a scene or act in a way that delivers the emotional experience of fear. Same with any other emotion. You need to deliver the experience, not just empty words.
IT'S YOUR TURN
Go through every page your current script and make a note of three things:
What emotion you are trying to deliver.
Places in your script that are void of emotion.
Places where the set up is there, but it doesn't pay off emotionally.
Do that on every page of your script and you may be very surprised at what opportunities you discover. It is a simple exercise, but it will clearly show you where you aren't delivering emotion and even more important, it will highlight in your mind what emotions you want a reader to be experiencing. That is a major step toward writing highly emotional stories.
SCRIPTS WANTED!
** Remember - DO NOT SEND MATERIAL TO ANYONE LISTED UNLESS YOU ARE CERTAIN THE COMPANY AND/OR PRODUCER IS LEGIT AND YOUR WORK HAS BEEN COPYRIGHTED.
Buyer: Billy Cooper
RedTip Media
Credits: Music Video/ Commercials
Is there money upfront? Yes
Contact: Billy Cooper
Years In Business: 8
Email: RedTipmedia@yahoo.com
We are based in Los Angeles expanding from music videos/commercials to features films. Developing several features for direct to video distribution. Seeking experienced writers with a superior understanding of intelligent dialogue /well structured "Hollywood" formulaic script. With our first film in pre-production we are seeking additional scripts. Genre: Action Thriller/Suspense. Example: Michael Mann/ Tony Scott/ John Woo. FAST PACED plot or character driven. Format: film Pay from 1,000 to 5,000/ Plus backend percent of gross sale, first in line (Amount Negotiable). WGA Guidelines to be followed. Please email log line and synopsis. We finance our own productions. Thank you
Buyer: Gavin Wilding & Carrie Wheeler
Rampage Entertainment Inc.
Credits: CHAOS, BOB THE BUTLER, SUDDENLY NAKED
Is there money upfront? no
Contact: Carrie Wheeler
Years In Business: 11 years
Email: Carrie@Rampage-Entertainment.com
We are currently looking for original, fun, family / tween oriented feature film scripts in the vein of "Mrs. Doubtfire", the "Air Bud" series, or a modern day "Annie". Please send one-page synopsis in body of email to Carrie@Rampage-Entertainment.com. We will not open any attachments. Please do not send the entire script and resumes are not required at this stage. Please include contact information and please note that we will only respond to those submissions that we feel are right for us at this time. We look forward to receiving your material.
Wildlight Films seeks Single-Location horror/thriller/suspense screenplays to be put into production in the coming year. Scenarios must be taut, contained, intelligent, unique, and low-budget.
Think of films like "Misery," "The Shining," "The Exorcist," and "Bound," wherein 1 location centered the action, but a small handful of exterior locations appeared throughout. Less than 20 speaking roles are ideal. 85-100 minute length is optimum. Intelligence, sophistication, uniqueness, and intimacy are favored over gore and spectacle. Payment will be 5-10% of production budget. Experienced/credited writers will receive more attention.
Be sure your work is copyrighted and/or WGA- registered, and send as an attachment in PDF, Final Draft, or MS Word format to:
WildlightFilms@Yahoo.com
c/o RJ
Please include a brief synopsis.
Ěthis is in or around Los Angeles, CA
Ěno -- it's NOT ok to contact this poster with services or other commercial interests
ĚCompensation: 5-10% of production budget
Buyer: Bryan Curb
MTO Productions
Credits: See IMDB
Is there money upfront? Possibly
Years In Business: 7
Email: bryan.curb@mtoproductions.com
Looking for TV-friendly, genre MOW scripts set (or possibly able to be re-set) in the southeast United States - Charleston, SC or similar. Budget should be up to $1 million. Looking for that proverbial diamond- in-the-rough that can transcend the MOW format and break through into a feature level of quality. Send logline in the body of email - no attachments please. We will contact you if we'd like to see more.
** Once you are certain the listing is legit, submit material through an attorney, manager or agent. Never, never, never send your complete script to anyone over the net. A half page synopsis is all that should be expected via email, the requestor should supply full postal details for anything more. Unless you intend to make more money from the potential lawsuit than selling your script, make sure your script is registered with the AWG/WGA-west or east. Best of luck!
Email Marketing
What is one of the first tasks you undertake when you arrive at the office? Chances are you read your email. Email use is rising fast. According to Forrester Research, over 35 percent of Internet user time is spent with email. What is most interesting is that we even check our work email while on vacation and during the weekend. It has become a part of our every day lives.
With people spending so much time on email, there is an enormous opportunity to market to them and build solid customer relationships. According to the 2001 eMail Marketing Report by eMarketer, total email spending in the US exceeded $1 billion for the year 2000. It is predicted that this number will increase to approximately $4.6 billion by the end of 2003. Email has emerged to become one of the most profitable and economical ways to manage customer relationships, presenting marketers with many opportunities and benefits.
Opportunities
Low Cost - Email advertising is the most cost-effective way to reach customers. When you consider how much money you spend on traditional marketing vehicles, the value of email marketing is evident. For instance, you do not have to worry about production, the use of materials or postage - as you do for direct mail. What is most attractive is that you market to an audience that will receive your message and likely respond to it because they have provided permission to accept it.
Targeted and Qualified Audience - When you create your own email list (as opposed to buying it) it means you follow a process whereby you contact your intended audience and gain permission to use their email address for future communications from your company. No list is more targeted or qualified. Because these individuals have agreed to accept a message from you, it is likely that they will read the message and take part in a particular action, whether it is to simply visit your site or make a purchase. This type of marketing is very effective - particularly when you consider direct marketing or other forms of traditional advertising where you spend large amounts to reach an audience that may never receive your message.
Fast, Efficient and Effective - Developing an email campaign is not as resource hungry as other marketing activities. You simply develop the message, identify your audience and send the message. There is also the flexibility to alter the message for different audience groups. For example, you may send a message informing recent buyers about a sale you are having. Then, you may add a coupon to this message for customers who have visited your store but have not yet made a purchase. This flexibility is not available with other marketing vehicles, which require various resources to implement. Email marketing also generates immediate responses since the call to action is within the message and provides an easy response mechanism for customers. For example, all they have to do is click on a link.
Personalized Communication - Email marketing is a proactive medium to maintain contact with customers and build relationships with them. Leveraging information from past interactions, you can identify where your customers are in the buying process and engage them with regular communication that is tailored to their needs with personalized messages and timely information. You can deliver information that provides the most satisfaction to them and is most profitable to you.
For instance, you may remind customers about a sale you are having, invite them to a customer appreciation night or alert them with new product notifications. By personalizing the customer experience you can maximize existing relationships and turn prospects into long-term, loyal and profitable customers.
Easy to Track and Evaluate - Traditional marketing campaigns can take months to plan, implement and evaluate. For instance, to roll-out a direct mail campaign it would take weeks to develop the content, organize production and mail the promotion. Then, there is a period of time when you wait and see if your campaign brought any results. Have people visited your web site? Have they visited your store? Have they made a purchase? What exactly is the return on investment? Measurement of the effectiveness of the campaign is limited. Email marketing campaigns can be executed within days and results tracked immediately. Using various software packages, you can determine how many customers received the email, how many opened it and how many bought a product because of your message.
Increase Sales - In addition to providing an easy means to send out coupons, discounts and other promotions, email marketing enables you to provide a solid call-to-action to a specific offer, which is easy to take advantage of. If you want to increase sales, a strong offer is central to the success of your email campaign. It's also effective to include e-commerce functionality within the email to shorten the sales process.
Improve Brand Awareness - Email provides an easy medium through which to gain the attention of a large audience, particularly if your message is entertaining, compelling, or unique. The trick is to improve the association of your message with the branding of your company. For instance, if your audience is primarily young and have a carefree attitude, you may provide a promotion to win an outdoor adventure vacation.
Drive Site Traffic - If you want to increase your site traffic, email marketing provides an easy and effective avenue through which to entice people to your site. Attract attention to your site with a sample of the benefits your business provides. Provide content that will attract the audience's attention and encourage customers to check your site for more information. Entice them with free offers, humor, or entertaining tools.
Challenges
Qualify - How can you ensure an email address on your list belongs to a particular person? How can you ensure the email address is correct? When you compose a list of email addresses it is necessary to qualify each one. There are many techniques to test the quality of the addresses you gather. For instance, you may send an automatic email telling the customer that they have been added to your mail list and ask them to confirm their acceptance. Or, you can have the customer provide their address twice to reduce entry mistakes.
Inform and Gain Permission - Adding email addresses to your customer files requires that you inform customers on how you plan to use their address and obtain permission to do it. If you do not follow this process, the long-term results could result in lawsuits, and wasted marketing dollars trying to reach people who do not want to receive your messages. You may also be labeled a 'spammer', which can affect your business reputation and image.
Maintain Lists - Email addresses are perishable pieces of information. What may be the correct email address for a customer one day may be different the next. According to NFO Research Group (2000), 32 percent of consumers change their email address each year. Therefore, it is important to ensure you maintain contact with customers and provide then with easy methods to update their address. It is also important to re-establish email purposes. For instance, if the customer has agreed to accept information on product sales, this does not mean they are open to accepting other forms of communication, such as a newsletter. You will need to re-affirm what your customers have agreed to accept so you do not anger them or risk jeopardizing your company image.
Determine Objectives
Even before you started to develop an email list, you should have had some idea how you were going to use the addresses. Whether you want to increase online sales, improve brand awareness or drive site traffic, your objectives will provide guidelines for measurement, direct your business endeavors and help to determine the success of your campaign.
Determine the Message
When you develop an email message, every stage - from the time the customer receives the email to the time they open it, should be considered. What will the customer see when they receive a message from you? Will it entice them to open the email and read the message?
NEWS MEDIA
Writer's please follow the links below and submit your press releases for publication on hundreds of news media.
Appleg ate - Send us your latest news releases NOW for inclusion in this feature. It is completely FREE of charge and all published releases will be linked to your Internet site bringing new leads to your business.
The Augusta Free Press has a section designated for you! Share promotions, grand openings, anniversaries, quarterly reports and more - with the community and the world.
AustinXL - The Gateway To Austin
The Bellingham Herald - Simply choose the appropriate department. The assigning editor for each department will distribute press releases/tips to the appropriate reporters.
BetaNews - You can submit a news item or tip to editors for review.
Blue's News - If you send news and it's posted, the name in your signature, but no email address (unless you request otherwise), plus any relevant web-links will be posted along with the story. Please send news to: news@bluesnews.com
The Burlington Free Press - Publicize your news information by sending a detailed email: metro@bfp.burlingtonfreepress.com
WISC -TV3 - Submit press release or story idea. assignment@wisctv.com; molly@channel3000.com
Cincinnati.Com - Submit a News Tip, Story Idea, Press release or Announcement
Daily Wireless - Not all submissions will be posted
D igital Press - The spotlight is on YOU!
Genie Knows - The best way to submit articles and story pitches is via email submission to the editor. Please do not call with questions. editor@genieknows.com
Press World - offers free online press release submission and distribution services.
The Mountain Press - Send community news, events, or letters to the editor and other suggestions.
RADIO & MAGAZINES
Looking to get yourself noticed? Well here's some leads to get you started.
ABC Radio Network's "The Sean Hannity Show" is carried on nearly 400 ABC Radio Network stations reaching almost 12 million people. His show, which is openly political, and on top of the news, is heard daily for one hour. Suggestions for guests and subjects for the radio show can go to the producer, James Grisham.
james.grisham@abc.com
(212) 613-3807
ABC News Radio
125 West End Avenue
New York, NY 10023
(212) 613-3800
ABC Syndicated Talk Radio Program, "It's All About Life!" Danielle Lin is the creator and host of the nationally syndicated talk radio program. The show concentrates on healthy lifestyles, and producer Sheri Quinn is interested in experts from the field of good and natural health, experts on fitness, nutrition, health, ecology, relationships, natural health in all its aspects, herbal remedies, news and research, aging, sex, nutrition and sports fitness. The program is syndicated on over 38 radio stations via ABC satellite in 30 states and provinces. Send suggestions for the show to:
2344 East Murray-Holladay Rd.
Holladay, UT 84117
(801) 278-9669
Fax: (801) 277-4601
danielle@daniellelin.com
or
radiostar@acninc.net
Dr. Laura Schlessinger, the sometimes controversial female is heard daily with a nationwide listening audience of eight million, and is syndicated by Premiere Radio Networks. Her thrust is to mobilize people to make a difference in their communities and their homes. The show is heard from 11:30AM to 3 PM PT. The producer is Michelle Anton, who can be reached through:
Premiere Radio Networks
(818) 377-5300
Fax (818) 377-5333
Dr. Laura
PO Box 8120
Van Nuys, CA 91409
BusinessWeek publishes a stand-alone small- business quarterly called BusinessWeek SmallBiz. Kimberly Weisul, BW's small business editor oversees the spin-off. The new publication is distributed free to 500,000 names gleaned from McGraw-Hill's Leader's database. Departments deal with economic trends, finance, and management.
Contact Weisul at:
BusinessWeek
1221 Avenue of the Americas, 43 fl.
New York, NY 10020
(212) 512-2511
Your Life!Magazine Dr. Ruth Peters, is the contributing correspondent for The Today Show and Child editor. She is an author and consultant for major companies, and is a frequent guest on TV discussion shows. She can be reached at drpeters@yourlifemagazine.com.
Lena Nozizwe, award winning journalist, and former correspondent for America's Most Wanted, is the West Coast Editor. Ms Nozizwe, can be reached at lena@yourlifemagazine.com with questions, and comments.
Anyone with items they would like included in the photos, send non-returnable products to the editor: Pamela LaGioia
c/o Your Life!Magazine
909 Barbourville St.
Corbin, KY 40701
or call her with questions at (606) 526-8880
Remember pitching your story idea to any one of these will bring your book or product to the attention of thousands!
LITERARY AGENTS
Always query first! DO NOT send materials until requested.
Eddie Kritzer Productions - EKP is actively seeking compelling manuscripts and screenplays for immediate consideration. Areas of specialization include: books, cinema, stage, TV specials, series, TV movies of the week.
The Carolyn Swayze Literary Agency Ltd. - The Carolyn Swayze Literary Agency Ltd. represents some of the finest Canadian authors writing today. Represents literary fiction, commercial fiction, and a very limited list of juvenile and teen books.
BIGSCORE PRODUCTIONS - BigScore represents authors to both general and religious publishers. It markets all book rights including print, film, translation, audio, and commercial (licensing).
JARET ENTERTAINMENT - JARET ENTERTAINMENT is the Literary Management & Production company founded by Seth Jaret in 1996. Its mission is two-fold: representation of writers in feature film, television and book publishing; and development, packaging and production of movies, television and book projects.
JANE DYSTEL LITERARY MANAGEMENT - JDLM was launched with a quickly growing roster of Pulitzer Prize winning journalists, celebrated experts in fields as diverse as parenting, women's health, and cooking, acclaimed literary and commercial fiction writers, and an eclectic and exciting list of titles. The primary goal of the agency was and is to offer not just financial and contractual advice to its clients, but also editorial guidance and support.
JOB LISTINGS
Illustrator
Location of work: Oakland, CA USA
Type of contract: freelance
Duration of job: 5 months
Job description: Experienced illustrator needed to generate sketches and final line art for an educational software product. Only artists with a URL showing samples of their work will be considered for the work. Please do not send resumes.
Please send email with contact info and URL to: jmonty@scilearn.com
Requirements/skills:ability to match an established illustration style, ability to generate storyboards quickly, ability to draw human figure quickly from different angles
Character Artist Location of work: St.Catharines, ON Canada
Type of contract: Full-time
Duration of job: Permanent
Contact: Human Resourses
Address: One St.Paul St., Suite 800
St.Catharines, ON L2R 7L2
Canada
phone: 905-687-3334
fax: 905-687-3652
email: humanresources@siliconknights.com
Job description: Silicon Knights proudly ranks as one of the world\'s top studios in video game development. Focusing in next generation console technology and development, and we are looking for several exceptionally talented and creative individuals to join our development team. If you are talented and inspired to create great games, we want to hear from you.
Requirements/skills:
Graduate pf classical animation program preferred; 3D computer experieince is an asset; Artistic protfolio required.
Drummer Wanted for Rock n ROll Bank London / Kent - Solid pacemaker wanted for exciting, dynamic ORIGINALS rock and roll band. Sidcup Based Aged 18-26... if interested contact us at: thefore@hotmail.co.uk
WRITER'S SUBMIT YOUR ARTICLES!
SOUTH FLORIDA PARENTING - Most South Florida Parenting articles are purchased from freelance writers. The magazine publishes a variety of regular departments: Out & About, Baby Basics, Preteen Power, Family Money, Family Health, Family Web and more.
LONG ISLAND WOMAN - Buys articles of special interest to women ages 35 and over. Topics include news, humor, lifestyles & family, mental & physical health, sports & fitness, nutrition & dining, fashion & beauty, business & finance, home decorating & gardening, entertainment & media, travel & leisure, books, interviews with interesting or inspiring women and women celebrities. Long Island Woman buys one-time rights to articles.
PA W LUXURIES MAGAZINE - This is a new publication dedicated to the art of pampering pets. Lauren Halperin is publisher.
CELEBRITY ADDRESSES
Whether you're looking for an autograph, celebrity endorsement or just interested in communicating with a star... here's the latest addresses.
Henry Czerny
438 Queen St E
Toronto ON M5A 1T4
CANADA
Jake LaMotta
400 E 57th St
New York, NY
10022
Stephanie March
c/o Mesa Grill
Attn: Bobby Flay
102 5th Avenue
New York, NY
10011
James Purefoy
c/o ICM / Oxford House
76 Oxford Street
London, W1N OAX
United Kingdom
Emilio Estevez
c/o Celebrity Merchandise
PMB 710
15030 Ventura Blvd
Sherman Oaks, CA
91403
George Steinbrenner
c/o Yankee Stadium
River Ave. & E. 161st St.
Bronx, NY
10451
Keith Hernandez
255 E. 49th Street #28-D
New York, NY
10017
Chad Michael Murray
c/o 'One Tree Hill'
Screen Gem Studios
1223 N. 23rd St.
Wilmington, NC
28405
Catherine Bell
c/o JAG Belisarius Productions
5555 Melrose Ave
Clara Bow, Second Floor
Hollywood, CA
90038
**** Remember: Celebrity endorsements are a good way to boost book sales or any product for that matter, so don't be shy about sending out those requests!
SPONSORED LINKS
FindTheRig htWords - A team of writing professionals with 45 years combined experience in writing, editing, legal/administrative secretarial and office management. They are available to assist you with editing/proofreading, transcriptions and will even help you rework that book you're writing.
PR by the Book -Marika Flatt. PR by the Book offers: full scale media campaign, ala carte publicity services such as media training, specific city promotion, press material development, and other training/ consultant services. Of most value to new writers, Flatt develops a complete marketing plan which writers can use in their promotion to agents and publishers.
WriterOnLine - is an e-publication dedicated to writers and lovers of writing. Fiction, poetry, business and technical writing, how-tos, articles, reviews, freelance markets, jobs for writers and much more, published bi-weekly.
BookPros. LLC - Since its inception in 1994, has built a reputation that ranks it among the industry's most highly respected publicity firms, and the publicist of choice for authors and publishers throughout the United States and 17 foreign countries.BookPros also offers a no charge comprehensive media analysis of your book, to evaluate its potential reach and scope in the media.
Contact:
BookPros
2525 West Anderson Lane, Ste. 540
Austin, Texas 78757
512.478.2028
512.478.2117

We appreciate and hope you continue to send us your comments, opinions, articles and suggestions. Remember if you submit anything to our newsletter - include a link back to your site.
Copyright by Betsie, 2005 All contents of this email are for the use of Betsie's Literary Page subscribers and may not be reproduced in any way and/or posted on websites without prior express written permission. If you would like to have friends or associates receive our emails, rather than forwarding this, please have them subscribe.
Thank You for reading!
Quick Links...