Betsie's Literary Page
Greetings Everyone!

This past week I was solicited by a reputable director to read a screenplay. His message read: I'd like to get feedback form writers I admire.

*I Blushed - I've never been asked to grade a screenplay!

I did as requested and immendiately returned it.

His reply: I'm astonished! How did you read and correct that draft so quickly? Knowing you as I do, I guess I shouldn't be surprised. Thank you so much for catching so many typos and misspellings. Greatly appreciated.

P.S. I need to get a copy of your diet and a list of any supplements you're taking - you're energy level is incredible.




So what was my feedback?

Two thumbs up! The storyline is very suspenseful keeping viewer interest from beginning to end. I liked the twist, much better than Sixth Sense. Well done!!

For anyone interested: My diet consists of lots of caffeine, zero sleep or nearly zero and heavy doses of junk food! LOL





*A special note for authors: It doesn't take much more than common sense when querying agents. It is a well-known fact that many rejections are due to a number of reasons, such as: poor writing skills, submitting a genre not accepted by the agency, submitting material when not requested or just flat out not following the guidelines. Don't be fooled by hype or quick fix solutions!



Website Updates
BLP has recently added an Author's on the Web page. Writer's will be listed by area of expertise: Novelist- Poet - Screenwriter. Anyone wishing to add their information please send full name, link and category to betsiesbooks-books@yahoo.com
BLP has also recently opened up several advertising spots on the main page. Only ads aimed at readers or writers will be considered. Anyone interested should direct all questions to: betsiesbooks-ads@yahoo.com
Screenwriters you are absolutely correct! The agents page is mainly for authors and talent. This has been rectified by adding a page strictly for script agents - more will be added as time permits.
go here for Screenwriter agents
In the News
Average Voters Are NOT Average Americans
According to an article in New Strategist Publications, by Cheryl Russell, editorial director, politicians are trying to portray themselves as in touch with the average American. In truth, she says, they are courting the average voter, whom she describes as:
- A woman. Fifty-one percent of the nation's 294 million people are female. Among voters, the female share is a larger 53 percent. In the 2000 presidential election, women cast nearly 8 million more votes than men.
- 46 years old, while the average American is 37. Voters are older than average because young adults are least likely to vote. In the 2000 presidential election, only 27 percent of 18-year-olds went to the polls (the smallest voter turnout by age). In contrast, fully 73 percent of 67- and 68-year-olds voted (the highest turnout).
Russell concludes that "the demographics of voters explain many of the antics of the Silly Season."
How much do you know about brand loyalty and the 50+ market?
1. If a company markets a product to the 50+ market and that product does nothing but maintain its market share, it should increase sales by 35 to 50% over the next 20 years.
2. About 50% of adults 45+ are "always looking for better products," indicating their brand loyalty is not set in stone.
3. At all ages, 91% agree that they care mostly about value - not brand name.
Surprised? You're not alone. Marketers have ignored this target for too long. But with the 50+ demographic increasing from 76.1 million in 2000 to 97.1 million by 2010, marketers can no longer overlook this very lucrative audience.
AARP and Roper ASW conducted research to determine how adults of all ages think about brands, how loyal they are to certain products and services brands and what might compel them to try something new. The findings might surprise you.
IF YOU WANT PROOF THAT search is growing up, count the keywords.
In late July, Dutch Web analytics company OneStat.com released a new report on the number of words in phrases people use for search engine queries. Analyzing phrases ranging from one to seven words, one- and two-word phrases were on the decline, while longer phrases posted an increase.
This affects everyone: Internet users, companies engaging in search engine marketing, as well as everyone and everything searchable online.
One and two-word phrases still account for 46.7 percent of all searches, down from 51.6 percent since February, a fairly quick descent of almost 10 percent.
Think what kinds of queries can be conducted with one or two words. There are company names - Starbucks, Eddie Bauer; there are celebrity queries such as Madonna, Josh Duhamel, and Maria Sharapova; and some news items fall into this group, such as John Edwards, Iraq war, and Google IPO. Any subject can have a short query (DVD player, Philadelphia Phillies, Dow Jones, Bahamas flights, ovarian cancer), but it tends to be so vague that you'll need to drill down further.
The longer queries allow search engines to come up with more specific information, and they underscore how users are placing a greater amount of trust in searching.
While two-word phrases are the most popular (at 30 percent of searches), there's a shrinking gap between those and the runner-up, three-word phrases. The difference was cut in half from February to July, with the former month showing a 6.97 percent gap and the latter month with a 3.26 percent difference. Four-word phrases are likewise nearly as popular as one-word phrases, with the difference between them dropping from 6.19 percent in February to 1.77 percent in July. Additionally, phrases of five to seven words now account for nearly 11 percent of searches, up from just under 9 percent in February.
The difference between what users can do with a four-word phrase and a two-word phrase is like using either a candle or a raging fireplace to warm up. Both will have an effect, but only one will really accomplish the job.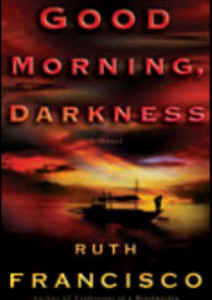 BLP's Book of the Month
Good Morning, Darkness by Ruth Francisco
What makes this story captivating is that the author writes for diverse ethnic groups. You'll begin to see the characters mannerisms and impressions on daily life and relate due to the savvy nature, style, and flow of the author's speech.
You'll root for the bad guy, but... who is the bad guy?
Purchase a copy today!
Book Reviews
Title: How to Find a Literary Agent who can sell your book for Top Dollar Author: Jill Nagle Publisher: Get Published Genre: "How to" ISBN: 0975425307 EBook; 80pages $29.95
Rating: NOT RECOMMENDED
August 2, 2004
It's more like finding "private Ryan!"
I've read many marketing materials and "how to's" worthy of mention, even when not related to novelist, their methods could still be applied to reach a goal in mind. So when I was approached to evaluate this book I assumed it would be something of value to share with subscribers, friends, and authors in need of assistance.
One thing to keep in mind when writing these sort of books is that many authors, especially novices require being led by the hand so to speak - in a step-by-step process.
Jill Nagle's - How to Find a Literary Agent falls "below" short in this respect.
The book contains no new information that cannot be acquired - online - for free. Once readers get past all the fluff they'll notice it also contains a number of well-traveled links, suggested by the author. Most of these are websites selling their own products such as the Literary Market Place and Publishers Weekly.
Of the eighty pages, the introduction doesn't begin until page seven, and at the end, five pages are filled with the author's bio, how to acquire her books, as well as other products and services offered. Another implication within the book is that this "guide" will expand in the next edition (scheduled for fall 2004). This reader's next question is: will consumers have to pay for these updates?
Does How to Find a Literary Agent show readers - beginners and experts alike "how to"? Is it worth the money to see what's inside? In so many words: NOT REALLY. Readers should take their savings and treat the family to a night out for dinner. The title itself will surely work its magic in attracting unsuspecting flies and the only impression one gets from reading this book is that the author is out to make some quick cash!
However, I do believe the author was on the right track with such a book. Although its lack of "real" substance and research of the simplest kind was its ultimate doom. As the saying goes... if it sounds to good to be true... it probably is!
For these reasons I am unable and will not recommend this book.
Reviewed by Betsie
* This book will not be found on the BLP site due to rating
Screenwriters
Screenplays Wanted!
Beach House Films
I am looking for a completed character-driven, quirky comedy, with a dramatic element to it in the vein of 'Rushmore', 'Adaptation', 'Buffalo Soldiers', 'Eternal Sunshine'. Off the beaten path with a unique point of view and a deep message.
Please no immature or gross-comedy scripts
Budget range will not exceed 10-12 mil. WG and Non- WG both welcome to submit. Allen Martinez is an awarding-winning DGA director (Project Greenlight, Clio, AICP, IBA and others). He has been represented by Miramax Films/ A Band Apart and has recently been taken on by the Creative Artists Agency.
Please send a one-page logline and synopsis only in body of email. NO ATTACHMENTS: Allen Martinez - alcakes2000@yahoo.com
10 Tips to Successfully Promote Your Book This Holiday Season
Could the holidays really be just around the corner? If you are an author, they may be here sooner than you think. Now is the time to start preparing to promote your holiday related or "gift appropriate" books. Here are ten tips for authors to make this holiday season a success.
1. Plan ahead for the holiday season. Remember that every media outlet has a different lead time and pitch accordingly.
2. Media outlets still have to put out stories during the holiday season, but with government offices and schools closed, they have less news coming in, which makes it the perfect time for your book to get coverage it might not have during another time of the year.
3. Develop a promotional package that includes descriptive passages, quotes, reviews or an excerpt from your book to show how it is related to the holiday season. This is an appealing and enlightening way to leave your reader longing for more.
4. If you do not have a holiday book, think of ways to promote your book as a good gift idea, self-help, or enjoyment for the entire family.
5. Ask friends and family to help you market your book. With holiday gatherings in full swing, networking opportunities will abound.
6. When traveling during the holiday season, stop by bookstores and offer to sign copies of your book if they have it on their shelves. Signed copies make nice gifts and sell faster.
7. Be aware the journalist you ordinarily pitch to might be on vacation, if so, pitch to a higher up.
8. The media is looking for stories that deal with New Year's Resolutions; it is a time for fitness, health and self-help.
9. Find a way to package your book as a gift, perhaps with a CD or DVD.
10. For those authors who feel that they need to trust their promotional efforts to a professional, begin contacting publicity firms early because most of the leading firms will book their fall campaign schedules very soon.
Written by client development coordinator and former senior publicist at Phenix & Phenix Literary Publicists, Amanda Sammons.
"While the holidays might be a down time for other industries, the media is still in the office pumping out stories. Over the winter holidays, government offices and schools are closed, leaving the media open to receiving story pitches that might otherwise have gone underneath their radar," says Sammons. "As publicists, we are planning ahead so we can take full advantage of the downtime."
Begin building a solid foundation for success this holiday season by sending in your book today. Please contact Amanda Sammons at asammons@bookpros.com for more information or:
Visit Phenix & Phenix today!
Authors
Borders Books & Music needs authors
I am currently scheduling three Author Showcases in St. Louis:
1. A Cooking Showcase at Borders Ballwin on Thursday, September 16 from 7 - 9 PM.
2. A Sports Showcase at Borders Sunset Hills on Saturday, September 18 from 2 - 4 PM.
3. A Historical/Regional Showcase at Borders Fairview Heights on Thursday, September 23 from 7 - 9 PM
Please follow these instructions before replying. If your book does not fall into these three categories or you are unable to attend the above dates please do NOT reply
If you are a children's author please alert me so I can place your name in my Children's Authors Distribution List.
Those who qualify - please note - I will collect all the e-mails first, then schedule the above showcases at one time and then send out confirmations. If I am unable to schedule at least three authors for each showcase, the showcase will be cancelled.
REMEMBER, YOUR BOOK MUST BE PROPERLY BOUND (WE WILL MAKE EXCEPTIONS FOR COOKBOOKS), HAVE AN ISBN AND BE 100% RETURNABLE. No exceptions.
CONTACT:
Erika Stauffer Area Marketing Manager estauffe@bordersgroupinc.com
Autograph Collector's
Celebrity Contacts
If you collect autographs, it's a great idea to write the celebrities below now. Most of them are all up- and-coming stars that will most likely be very well known within a year's time.
Get their autograph now when they are most responsive and watch its value soar as they become famous!
Authors don't be shy about approaching for endorsements!!
A. Kelly Brook will star in "Three," an independent film from director Stewart Raffill. The movie, which also stars Billy Zane, is about three people who are stranded on a desert island and are forced to survive.
Kelly Brook c/o Hyler Management 20 Ocean Park Blvd #25 Santa Monica CA 90405
B. Josh Janowicz will appear opposite Jamie Bell and Ralph Fiennes in the independent film "The Chumscrubber" for director Arie Posin. He will play a drug dealer at a high school. He recently placed a priest in "Charlie's Angels: Full Throttle."
Josh Janowicz c/o Darren Goldberg Mgmt 5225 Wilshire Blvd #419 Los Angeles CA 90036
C. Rick Gomez will star in "Sin City," Robert Rodriguez's adaptation of Frank Miller's comic books. He will play a character called Shlubb. He has starred in "Unchain My Heart" starring Jaime Foxx, and recently finished an ABC pilot called "Countdown."
Rick Gomez c/o Pop Art Management 9615 Brighton Way #426 Beverly Hills, CA 90210
D. Collin Stark will star in "Mixing Karma," about an artist who falls in love "Romeo and Juliet" style with a new neighhbor whose family is from India. He has appeared on "The O.C." and Pax TV's "Anna's Dream."
Collin Stark c/o Impact Artists Group 1050 La Maida St Toluca Lake, CA 91601
E. Ron Canada will star in "Cinderella Man," directed by Ron Howard. His credits include "The Human Stain" and "The Hunted."
Ron Canada c/o Stone Manners 3340 Barham Blvd Los Angeles CA 90068
F. Henry Czerny will star opposite Steve Martin in MGM's "The Pink Panther" for director Shawn Levy. He will play Yuri, a trainer on a soccer team whose coach was murdered and who is being investigated by inspector Clouseau (Martin.) His credits include "Mission: Impossible" and "The Ice Storm."
Henry Czerny 438 Queen St E Toronto ON M5A 1T4 CANADA
G. Lieli Arcieri will appear in New Line's "untitled Anthony Anderson project." She will play a Bible- toting reformed party girl who is one of star Anthony Anderson's co-conspirators in his kidnapping plans. She has appeared in "Daddy Day Care," "XXX," and the TV show "Son of the Beach."
Lieli Arcieri 10100 Santa Monica Blvd Fl 25 Los Angeles CA 90067
Agent's Seeking Clients
Richard Henshaw Richard Henshaw Group Authors' Representatives 127 West 24th Street, 4th fl New York, NY 10011-2418
Genre: Americana/Regional, Animals/Pets, Anthropology, Antiques, Archeology, Asian Studies, Astrology/Occult, Automotive, Behavioral Services, Biblical Stuidies, Biography, Biological Sciences, Business, Career Development, Child Care/Development, Children's Books, Communications, Computer Sciences, Cookery, Crafts/Games/Hobbies, Criminology, Earth Science, Economics, Education, Environmental Studies, Erotica, Fiction, Finance, Gardening/Plants, Gay & Lesbian, Government/Political Science, Health/Nutrition, History, House & Home, How-to, Human Relations, Humor, Literature/Literary Criticism/Essays, Management, Maritime, Marketing, Medicine/Nursing/Dentistry, Military Science, Music/Dance, Mysteries, Native American Studies, Natural History, Non-fiction (general), Outdoor Recreation, Psychology/Psychiatry, Religion, Romance, Science (general), Science Fiction/Fantasy, Securities, Self-Help, Western Fiction, Wine & Spirits, Women's Studies, Young Adult Fiction
Erin Murphy Erin Murphy Literary Agency P.O. Box 2519 Flagstaff, AZ 86004
Genre: Children's Books, Children's Picture Books, Young Adult Fiction
Want To Get Published For Free - Online?
Artistcorner Site provides an opportunity for creative people to post their original works from poetry and short stories to art and song lyrics for free. Other artists and art lovers can offer critiques of your submissions. http://www.artistcorner.com/writtenarts.shtml
Cherry Bleeds Publishes stories and articles http://www.cherrybleeds.com/what.html
Everypoet Submit your poetry for possible free publication in the Poetry Showcase. http://www.everypoet.com/
It's Only Words Offers an opportunity for writers of song Lyrics, poetry, prose and greeting cards to publish their works on the web for free. http://www.itsonlywords.com/
Nidus Publishes literary fiction on fixed schedule - see site for details. http://www.pitt.edu/~nidus/submit.html
Media Contacts
Adweek Magazines
is launching Marketing y Medios in September, 2004. This will be a monthly English-language publication which will cover marketing, advertising and media targeting the U.S. Hispanic/Latino population. The print edition will be supplemented with a Web Site and a daily push E- mail newsletter. The new publication will explore the challenges encountered by marketers and media serving this widely diverse population, including the distinctions between Spanish-dominant and Spanish- English households as well as between recent immigrants and more acculturated Hispanic Americans. They will also address questions about marketing to Hispanics whose countries of origin range from Mexico and Central and South America to Puerto Rico and Cuba. The publication will attempt to help marketers and others understand the differences among the largest Hispanic/Latino communities, the largest being in Los Angeles, New York, Miami, Chicago and Houston. Laura Martinez is the editor of the new magazine, and she is reached at Adweek's offices at 770 Broadway, New York, NY 10003-9595, (646) 654-5000.
We appreciate and hope you continue to send us your comments, opinions, articles and suggestions. Remember if you submit anything to our newsletter - include a link back to your site.

Betsie's Literary Page is where readers and shoppers are respected, books are cherished, aspiring writers are encouraged and authors are adored.

Copyright by Betsie, 2004 All contents of this email are for the use of Betsie's Literary Page subscribers and may not be reproduced in any way and/or posted on websites without prior express written permission. If you would like to have friends or associates receive our emails, rather than forwarding this, please have them subscribe.

Thank You for reading, see you next week!

Sincerely,


Betsie's Literary Page
---
phone: not available