Betsie's Literary Page Newsletter

Blast your book into the spotlight!

Greetings!


As you have quickly discovered by now, that besides having a good product, it is the amount of people contacted that make all the difference. Anyone can have the best product in the world and be the smoothest salesperson, but if you didn't actually make contact with lots of new people, you're sunk. This carries over equally to writers and perhaps the best example: the entertainment industry. Every actor knows that if he/she isn't consistently mailing out headshots, meeting people, sending out updates, doing showcases, etc., he/she has little chance of getting work. This applies to writers as well. Relying on just one source for writing work or script sales or not doing enough marketing, nets the same result as the actor who doesn't send out headshots, etc.





Betsie

Letters to the Editor

recent requests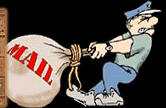 Hi Betsie,

I love your website! I want to send something to Tom Cruise and I am finding conflicting addresses. Your website gives his address on Melrose Ave in Hollywood, the Ross Reports gives CW productions on the lot of Paramount Pictures in LA. I looked all over the net to confirm and can't find anything. Please help!

Kristin





Whoa Kristin... hang on to your pantyhose!

First the Melrose addy is for his production company. And yes it is on the Paramount lot.

Use this to reach him:

'Mission Impossible 3' Cruise/Wagner Prods./Paramount Pictures 5555 Melrose Ave. Los Angeles, CA 90038 Filming begins: August 2004 Until: No Date Given*

Good Luck!




In the News

IS THIS REALITY TV INXS? Maybe they're just upset they can't qualify for VH1's "Bands Reunited," but '80s rockers INXS are going to great lengths to replace their lead singer, Michael Hutchence.

They've called in Mark Burnett, the reality TV impressario who is best known for making "Survivor" and "The Apprentice" watercooler talk for years. The remaining members of INXS hope they'll do the same for the band, which had a string of hits in the 1980s and 1990s and sold more than 30 million records.

"Rock Star" will appear on what a news release on the band's Website (http://inxs.com) called "a major U.S. television network" sometime next year. The competition will open with auditions on five continents and include some sort of viewer participation, although it won't be the deciding factor. The band will have something to do with the choice, since rock 'n' roll bands are often unstable enough without the stress of a lead singer who doesn't have some sort of a connection.

There will be a competition, as the finalists will have to prove their mettle as songwriters, performers, producers. The winner has a tough act to follow. Hutchence was a bona fide rock star, his face and voice instantly recognizable all around the world. Hutchence committed suicide in late 1997.

"After Michael died, we wanted to search the world for a new singer but didn't know how we could effectively do that," INXS member Tim Farriss said on the band's Web site. "By having Mark and everyone at MBP [Mark Burnett Productions] embrace the concept, we've now found a fantastic way to make that happen."




Screenwriters

Scripts & Tips


Scripts Wanted ------ Nexus Films ------

I am looking for two different types of comedy scripts:

The first one I am looking for is a completed African American 'Charlie's Angels' meets 'Austin Powers' comedy script that takes place in the hood.

The second one I am looking for is a completed African American Comedy in the vein of 'Friday'.

My most recent credits include: 'My Big Phat Hip-Hop Family' and 'Treasure in the Hood'. WG and Non-WG both welcome to submit Please email a logline followed by a synopsis (no email attachments will be read) to: Greg Carter

nexusfilms@hotmail.com




25 Steps to Becoming a Screenwriter by Richard Showstack

There are about 10,000,000 people in the greater Los Angeles area. Of those, approximately 10 people have the power to decide what movies get made.

All the rest want to be screenwriters.

Why does anybody want to become a screenwriter? Is it because they love movies? Is it because they love the creative process? Or is it something deeper, something more sacred, such as the desire for the fame and fortune that go along with it? (Don't forget the babes! They love screenwriters because they think screenwriters can introduce them to people who are really famous and make the really big bucks.)

1) Ask yourself: a) Is there anything else I can do? and b) Can I live with myself if I do not become a screenwriter? If the answer to either is "yes," get a real job. If the answer to both is "no," proceed to step #2.

2) Find a psychiatrist and get your head examined. (If he diagnoses you as an obsessive-compulsive with masochistic tendencies, that's a good sign.)

3) Read as many books on screenwriting as you can. Then forget 99 percent of what you have read.

4) Pick any three subjects and, under the tutelage of someone who knows how to write screenplays, write scripts about them.

5) Throw the scripts away-they're terrible. (But at least now you know the format and structure of screenplays.)

6) Check in with your psychiatrist and get a prescription for anti-depressants.

7) Write three scripts about the three things that are most important to you.

8) Whew! Good thing you got that out of your system! Now throw those scripts out, too-they are also terrible.

9) Write another script, this time focusing not on what you want to say but on what will entertain, emotionally move and transport an audience to a new virtual world, in the process helping them to learn (or relearn) something important about the human experience.

10) Send out 50 letters of inquiry to production companies. You will never hear from 40 of the production companies. Five production companies will return your letter unread, saying that for legal reasons they do not accept unsolicited inquiries. Three will write back and thank you for your inquiry but say they are not looking for any scripts at the moment. Two will ask you to send your script.

11) Send your script to the two companies and spend the time waiting for a response rehearsing your acceptance speech for the Academy Award for Best Screenplay.

12) One of the companies will write back and tell you your script has great potential and that they will be happy to rewrite it for you for $5,000. You will never hear from the other company, but at least NOW YOU ARE IN SHOW BUSINESS!

13) Try to limit the amount of time you spend sitting alone in the bathroom banging your head against the wall to three days.

14) Try some interesting new combinations of drugs and alcohol to see if that helps you become more creative.

15) It doesn't.

16) Find someone with an interesting story to tell, and write a screenplay based upon his/her story.

17) See steps 10 through 13.

18) Go to a writers conference and meet lots of other screenwriters (your competition). Discover that they are not only younger and more talented than you are but they all seem to know each other. In addition, they all have optioned scripts already.

19) Ask everyone you know if they know anyone who knows anyone in Hollywood. Find out that your mother's dental hygienist has a patient who knows a "Big Hollywood Star."

20) Write a letter to the Big Hollywood Star, mentioning your mother's dental hygienist's patient. Introduce yourself to the BHS and suggest that the two of you get together to discuss script ideas.

21) Receive a head shot of the Big Hollywood Star in the mail with a photocopied note thanking you for being a fan.

22) Call a suicide hotline but have trouble talking because you suddenly get an idea for a script about a person who works at a suicide hotline.

23) Go see a lot of movies to remind yourself why you wanted to become a screenwriter in the first place. Only now you can't enjoy any of them because you spend the whole time thinking about how the screenplay for the film would look on paper, and, after the film is over, you realize you could never write anything as good as that. (Alternately, the movie was terrible, and you can't figure out why anyone bought that piece of crap when you can't even get your phone calls returned.)

24) With the money you have saved from your "day" job (you weren't crazy enough to give that up, were you?) start seeing a therapist. The therapist will try to convince you that it is/you are crazy to keep pursuing a career in screenwriting. If you agree with the therapist, give up on your dream. If, however, you think the therapist is a boring sludge who is just jealous that you are doing what you really want to do and is secretly being paid by your parents to crush your dream and is probably writing a screenplay himself anyway, and that, no matter what anybody says, you are not going to give up that dream, then you are ready to become a screenwriter.

25) Tear open your heart and write the script you find there! (Of course, you won't sell it, but--)

Richard Showstack is a full-time writer/editor/screenwriter. He has had two scripts optioned. Two books of his "fables with moral lessons for teenagers" will be published by BeachHouse Books, an imprint of Science and Humanities Press.




Marketing

Set up a free sampling program


Gourmet grocers put out trays of freebie treats and eats for customers to taste. It's inexpensive and effective. It will work in any business. You just have to use some creative thinking and figure out how to make it work in yours.

Each business, of course, requires custom-tailored marketing. But if you think like your own best customer, you'll come up with ideas that are long on results and easy on the bank account

4 ways to build buzz for your brand

It's not easy being a baby.

But nowadays, as customers lean toward tried-and- true products, building buzz for a brand-new business or novel takes real smarts, creativity and persistence.

What is a brand? It's the promise you make to customers. It's the "emotional connections that create feelings of loyalty to a product or a company."

To get customers to notice your infant brand quickly and affordably, you must stay focused. Don't chase after huge or unlikely prospects right away. Don't squander time and resources by broadcasting mixed messages. Keep it simple. Make sure your marketing material has a recognizable identity, with a consistent logo, palette and tag lines.




1. Get inside the customer's mind.

Most new business owners research their target buyers. So you likely know something about your customer demographics, such as income and age. That's good, but it's hardly enough.

In this climate, you need a serious fix on what will propel people to buy so you can gear your messages accordingly. "What need will you fill for the customer?" asks Scott Gold, chief executive officer of The Brand Consultancy in Washington, D.C. Once you know that, he suggests, "it's easy to find the low- hanging fruit."


2. Get endorsements that ring the right bells.

Expert or third-party endorsements can mean a movie star, a banker or a tech wizard. If you have invested in characterizing target customers, coming up with personalities who will fuel buzz should be a snap. The hard part may be getting access. You might need special marketing to reach them.


3. Get the attention of hot prospects.

Find the industry seminars or annual shows that attract your top-of-the-line customers. Then spend what it takes to design a snazzy booth. Or, sign up for media coaching and pay a speechwriter and design team to develop newsworthy presentations. Or, hire a marketing firm to create a memorable way to demonstrate your product. You want to make a standout impression at the high-profile show.


4.Get public relations pros to open markets.

Your products don't have to instantly make people attractive, guarantee weight loss or offer the promise of eternal youth to benefit from press attention.

In fact, there's a great range of small, local or industry press and media coverage that can boost business, as well as sales. But you could benefit from the expertise of a public relations agency to do the legwork and the pitching for media placement.

A good PR agency can come up with a hook or positioning that works for editors in that field. Bennett advises entrepreneurs to choose a small agency so you become a key client. Make sure you interview a few agencies before signing on. Retainers typically run $3,000 to $5,000 a month, but you might try a fee-for-project probationary period until you're sure of the fit.

Buzz and word-of-mouth marketing is a cheap and effective way to get out your message. Figure out what it will take to start customers talking about your brand. That way, every customer turns into a brand ambassador.




PRESS RELEASE

COLOURS TV SIGNS U.S.TELEVISION DISTRIBUTION DEAL WITH JWS PRODUCTIONS


HOUSTON, TX - June 17, 2004 - CoLours Television Network, a Dish-Network and subsidiary of Black Star Communications (BSC), has signed a U.S. television distribution deal with JWS Productions.

JWS Productions will develop and produce original programming for the CoLours Television Network. JWS's produced programming will begin airing on the network 1st Quarter 2005. They will be distributed over the CoLours television satellite/cable distribution network. The initial programming offering will consist of children's programming, reality show(s), sports, cooking, talk, sitcoms, special events, movie of the week and travel. The programs will target Asia, Hispanic, African American, Native American, Indian & Middle Eastern audiences. "Our objective is to produce content with multi-cultural themes that focus on better living, education, adventure, and just great television" states John Wayne president of JWS Productions. "We are looking forward to working with the CoLours Television Network" stated Joel Stevenson, vice president of JWS Productions. "We are pleased to be a part of the growing CoLours Television Network. We hope our produced and acquired programming will add to the CoLours initiative."

JWS Productions is a music video and commercial production company with offices in Houston, TX & Chicago, IL. JWS has created content for domestic and international television networks, Fortune 500 conglomerates, records labels, international events and many other businesses. Producer/Director John Wayne founded the company in 1993 and is credited with producing over 200 music videos & 70 television commercials. His work has aired on BET, MTV, Much Music (Canada), VH1, FOX, the BBC, Channel Four, SKY (Europe) and other networks around the globe. JWS Productions television division Johnny-Nem' Films will oversee this distribution agreement. JWS is also currently reviewing international television distribution agreements.




Contacting Celebrities

Writing the letter


This question came from Sharon J. Long author of Sunshine

Any suggestions on how to get celebraties to review your novel?

A: First I don't send out any books, only letters. The method I use is quite easy. I send a one page letter. Break this down by paragraphs.
Introduce yourself and your novel
What do you want them to do (endorse)
Explain why their endorsement would be of value
Praise their work and thank them for their time
Last sentence: Ask where you should send a complimentary copy to
Does it work?

A: Of the 11 letters I sent out: I recieved 5 responses directing me where to send a copy. 2 of those were by phone.

The 1st response came only 2 weeks after I mailed out the letters, the next day I spoke by phone, and the others arrived a month later. Do remember that some celebrities may take longer (if they're on location) to respond.

But once you have your response letter in hand - fax that to your publisher. Why? Let them send out the book, as it saves on expenses.




Paying Markets

Want to write for magazines?


HOPE Magazine

"Typically, we salute the efforts of individuals working to change political systems while steering clear of politics itself.

Typically, we avoid institutions of religion but remain interested in individuals whose lives are inspired by it. Typically, we are interested in the human story behind what is visible. We are a magazine searching all corners, all surfaces-the dark and the light-for aspects of humanity too precious to avoid or ignore. Our mission is to explore the places where hope often fades, and to share stories of struggle and triumph, where the heart of hope is often found."

Pays up to $1500 for a feature article. Query by mail to editor, Kimberly Ridley at HOPE Publishing, PO Box 160, Naskeag Road, Brooklin, Maine 04616

Complete guidelines can be found at: http://www.hopemag.com/ed_guidelines.htm




Reason

Pays up to $2000 for articles on acceptance. Query first by email or snail mail.

"Reason covers politics, economics, culture, and science from a broad-minded libertarian perspective. We look for original analysis and research and do not like simple rehashes of well- worn libertarian positions."

See the complete guidelines here: http://reason.com/writerguide.shtml




Sending us your articles

Deadline For those of you who have been asking:

Yes we do accept articles- such as: poetry/short stories/jokes/news tips/announcements and anything else you might think our readers will enjoy.

Our newsletter goes out every Friday morning during wee east coast hours, so we need to receive your article(s) by Wed. morning - this ensures us time to have edited for length and if we have any questions - we can have your response before its release.

Please enclose the following information with your submission:

Name and brief tag line

Optional: email, & website url