Up and Running: The Inspiring True Story of a Boy's Struggle to Survive and Triumph
by Mark Patinkin
Publisher: Center Street (September 2005)
Genre: Biography
ISBN: 1931722498
Hardcover: 320 pages
$22.95
Rating: Highly Recommended
October 14, 2005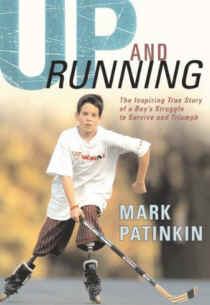 One night, in 1996, six-year-old Andrew Bateson suddenly feels feverish. What appears to be a cold or flu turns out to be a life-threatening disease - bacterial meningitis.
It only takes a few days for a purple skin rash to spread, as well as lesions, which ultimately cover Andrew's entire body and in the three weeks that follow the fast moving infection throws him into a coma then threatens to shut down his vital organs. The medical team manages to save Andrew's life, but was unable to save his legs. Both had to be amputated below the knees.
Without giving much away, the book is written in simple terminology, but more than that it reveals the trials and tribulations of everyone involved – from friends, to the team of doctors, to overwhelmed family members, to a marriage on the verge of disintegrating, bouts of anger, doubt, and depression.
Andrew's dramatic story is powerful, uplifting and truly engrossing. It will certainly make your own troubles seem trivial in comparison!
Up and Running is a fantastic read that is well worth picking up and don't be surprised if one day this shows up as one of "Lifetime's movie of the week."
Reviewed by Betsie