Title: Jingle Bugs (mini edition): A Merry Pop-up Book
Author: David A. Carter
Publisher: Little Simon (November 2004)
Genre: Children's Literature
Reading level: Age 4-8
ISBN: 0689874162
Turtleback; 22pp
$10.95
Rating: Highly Recommended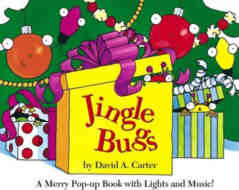 January 20, 2005
Bugs, bugs everywhere! From a curious bug ornament, to Holly Bugs, to a bug filled stocking.
This little book is guaranteed to entertain children of all ages - yep, even if your 95. With the pull of a tab or the lift of a flap. Its interactive elements and bright colors will keep little tykes busy long enough to give mom a break!. The text is simple for children 6 & up to grasp and read on their own. The last page contains a Christmas tree for which star lights up and cheerful holiday music plays.
Jingle Bugs is certainly worth picking up and reading with your child any day of the year!.
Reviewed by Betsie