Title: Absolute Friends
Author: John le Carré
Publisher: Back Bay Books (November 2004)
Genre: Mystery/Thriller
ISBN: 0316159395
Paperback: 456 pages
$13.95
Also available in Hardcover and Audio Cassette.
Rating: Highly Recommended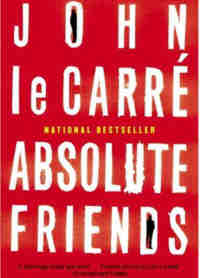 November 17, 2004
The U.S.-Iraq war has ended and dissatisfied with the British Government, Ted Mundy is betrayed by his English Language School partner, Egon. Egon has fled with the last of their assets, leaving him broke. Out of a job and business Mundy wanders the streets aimlessly. While at a café Mundy meets Zara, a young Turkish prostitute. Instead of taking her up on her offer, Mundy plays the Good Samaritan and offers her a meal.
Drawn to this neglected and abused woman, Mundy escorts her home, against her will. It doesn't take long for Mundy to establish himself as a father figure to Zara's eleven year old son, Mustafa, and soon enough within Zara's bed.
Although things change while Mundy is entertaining a multicultural group of English speaking tourists at Linderhof, a Bavarian Palace, where he works as a tour guide. Like a shadow from the past, Sasha shows up requesting a meet. Sasha is the son of a East German Lutheran Pastor and a middle aged double agent. Mundy agrees and follows Sasha to a secluded flat. Here Mundy's memories take over after the two men greet.
Recollections reveal who Ted Mundy really is, where he comes from, as well as his feelings. A boy born in Pakistan, an adolescent with an alcoholic father who refuses to clarify his mother's identity, and for most of life has associated himself with any cause encountered. From communism and socialism to his first meeting with Sasha in Berlin, when they were university students and at the height of the cold war.
Mundy himself is a flawed individual that has practically failed at everything: college, reporter, novelist, businessman, and radio interviewer. But has managed to succeed at one thing: a secret double agent.
John le Carré's book could be seen as "anti-American" if one chose to read into things and very easily find reason with phrases such as: Journalists, however, were blandly reminded that the United States reserved to itself the right to "hunt down its enemies at any time in any place with or without the cooperation of its friends and allies." Or "The easiest and cheapest trick for any leader is to take his country to war on false pretenses. Anyone who does that should be hounded out of office for all time."
But how far is America willing to go? How much are we, the people, willing to tolerate?
The war in Iraq, government deception and corporate misdeeds on an unsuspecting public are just some of what readers can expect. Absolute Friends is filled with engaging characters that guarantee to generate reader sympathy. The underlying layers and messages are sure to evoke much thought no matter how one feels of the ongoing war, 9/11, political views or President Bush.
Absolute Friends is an exceptionally powerful and spellbinding novel. Not only in its implications of democracy but also in how the threat of terrorism is being used, in our world of today. If you liked Fahrenheit 9/11, you'll like this book. This is one book you'll want to read or give as a gift to your favorite activist!
Reviewed by Betsie