Title: Uncle Sim's
Author: Liz Rohloff
Publisher: Publish America; (March 2004)
Genre: Fiction
ISBN: 1413705669
Paperback: 236 pages
$19.95
Rating: Highly Recommended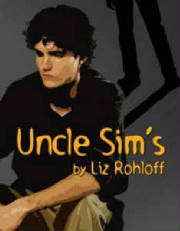 November 15, 2004.
Derek grew up in a small midwestern community in which the secrets and gossip have taken on lives of their own. There is little that can occur in this small town that will remain secret or unknown. Derek has questions of his own, primarily about the "black-sheep" of his family; Uncle Sim. Derek has questions about Uncle Sim, who is his father's cousin, but when he questions his father about this relative, he receives very brief and guarded answers. On a day when Derek speaks to Uncle Sim, his father rushes to Sim's home and warns his cousin to stay away from his son. Sim's reply, "I'll get even with your some day."
Thus, the reader has questions and this piece of fiction becomes a mystery novel of sorts. Little by little we learn more about Sim as viewed through Derek's eyes. Sim introduces Derek to a world of drugs, lies, vengeance and murder. We see Derek grow away from his childhood friends Kyle, Leslie and James. One of them, however, will become one of Sim's victims as he carries out a plot to get even with Derek's father. This story can happen in any town and many have seen what drugs can do to people. The ones that sell or use will never be the same.
We grow up with Derek, meeting his friends, as they were children and viewing their progress and fate as the pages of this book turn. Liz Rohloff is a talented writer and that talent is evident as you find yourself lost in the pages. Her characters portray the personal traits of many of our own childhood friends that either fail or succeed in spite of everyone's expectations. I think of the movie; Less Than Zero as I ponder the message relayed. Derek is that friend who took the wrong path and made some unwise choices in spite of his personal beliefs. A recurring theme throughout the book as stated by some of the characters was to "control the drug and not let it control you." However, the message is simple and painfully true – if you deal with or in illegal drugs – your life is no longer in your hands
I can see this book as a springboard for Liz Rohloff and many advocates who want to remove drugs from the hands and lives of our youths. Liz Rohloff's book will show you a scenario that's more realistic and one that we know to be true. The book flowed along remarkably and the end was one that some would expect and others will never forget.
Uncle Sim's was a tragic but very readable piece of fiction based on many remnants of non-fiction. You will enjoy the book and its message. Drug usage and abuse is not selective. It can happen to anyone anywhere and this book will tell a story that can be everyone's story in some manner. I thank Liz Rohloff for her research and insight that gave a living and breathing problem another personification to examine – and prevent.
Reviewed by Tyrone Vincent Banks