Title: The Girl Who Loved Tom Gordon
Author: Stephen King
Illustrations by: Alan Dingman
Publisher: Little Simon; Pop-Up edition (October 2004)
Genre: Children's Fiction Books
Reading level: Ages 9-12
ISBN: 0689862725
Hardcover: 14pp
$24.95
Also available in Paperback and Audio Cassette
Rating: Highly Recommended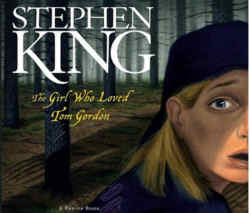 October 30, 2004
The tale begins when Trisha, 9 and her older brother Peter are taken by their divorced mother on a hiking trip along the Appalachian Trail. Mother and son argue the entire ride up (mainly about their living arrangements) and then continue the bickering on the trail. Trisha announces her need to use the bathroom, although mother and son are too busy arguing to even hear her.
Assuming it's okay, Trisha wanders off in search of a remote spot. What happens next is every parent's worst nightmare. Trisha determined to have some quiet time, instead of listening to the bickering decides to take a shortcut to end the expedition quicker. Though things don't work out as planned, and Trisha accidentally gets lost.
Amongst the wilderness, fear sets in, giving way to auditory hallucinations as well as visual ones. Trisha carries in her backpack, an egg, a tuna sandwich, a soda (lime), a bottle of water, celery sticks, 2 Twinkies, and a Walkman. To distract herself she focuses on baseball, especially her favorite closing pitcher, Tom Gordon.
Trisha's survival skills are put to the test day after day, as she struggles to manage alone in the woods for a week! She does so buy eating raw fish, berries, nuts, then drinking from ponds, and puddles.
The question is: How many nine-year-olds could survive such a traumatic event?
Stephen King has done a wonderful job with this book, and the illustrations certainly helped bring his words to life. There are subtle symbolisms that address issues like religion and self-realization. Children of all ages are sure to love this spooky-adventurous tale-- I know I did!
Reviewed by Betsie