Title: How to Learn a Foreign Language
Author: Aurelia McNeil, MAT
Publisher: Language Experts, LLC. (2004)
Genre: "How To"
ISBN: 097553100x (ebook)
0975531018 (softcover)
63pp
$14.95/$17.95
Rating: Recommended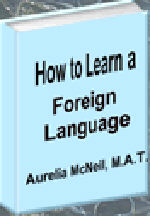 August 17, 2004
Personally having Spanish as a native language, English as a secondary, and Japanese as a third – I found this book quite interesting. Unlike the suggestions within the guide I learned Spanish and English practically at the same time, then without a passport threw myself into an unknown country – obtained a job and soon learned a third language. Although I do not recommend this for the faint at heart.
Acquiring another language is without doubt learning a skill, not just a body of information. It's as much like learning to swim or ride a bike, and few would argue that the most ideal way to learn a foreign language would be equal parts of total immersion and formal classroom instruction.
Aurelia McNeil's guide explains the step-by-step process of learning another language plain and simple. Starting from language similarities, to cultural barriers, to materials required, to how to select a dictionary, methods, approaches, practices, and more.
The guide also explains which languages are easier to learn, which may help in selecting one to get started. Also included within the guide are tips to help in the absorption of a new language, numerous resources and what to do if you're feeling shy about taking a step in this direction.
If you are interested in foreign cultures, or want to learn (French?) for next years vacation, or for job specific reasons –knowledge of another language and culture will increase your career opportunities, broaden your horizons and enrich your life. McNeil's guide of effective learning strategies will help you achieve this goal. This Resource Guide is not only great for learners of all ages, but teachers will find the information provided quite helpful. Home schooling moms may want to check this guide out as well.
Reviewed by Betsie