Title: Room for a Little One : A Christmas Tale
Author: Martin Waddell
Illustrated by: Jason Cockcroft
Publisher: Margaret K. McElderry; 1st US edition (October 2004)
Genre: Children's Books
Reading level: Age 6 & up
ISBN: 0689868413
Hardcover: 32 pages
$15.95
Rating: Highly Recommended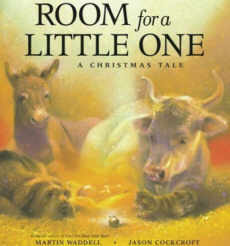 October 30, 2004
About two thousand years ago, in the town of Nazareth, a miracle occurred. There were Shepherds, the Angels and, on Epiphany, the Wise Men.
In Martin Waddell's version: This particular winter night is cold, and Kind Ox lies in his stable sheltered from the harsh bitter airs. He is snuggled in the warmth of his straw bed until Old Dog comes along in search of shelter and a warm place to rest his weary bones. Kind Ox invites him in. Not long after do more travelers arrive, also in need of shelter. Stray Cat, and Small Mouse, to be precise.
Then Tired Donkey arrives, leading Joseph along, as he carries Mary on his back. Mary is very tired and needed a place to stay. At each inn, the story was the same. There was no room for them.
"Where will my baby be born?" Mary asked.
Kind Ox invited Tired Donkey in. Mary gives birth to Jesus with the animals around them.
Room for a Little One: A Christmas Tale, is not only simply written and easy to understand, but is also exquisitely illustrated. This is a book your child will read everyday of the year!
Reviewed by Betsie